VALUES AND THE ENVIRONMENT
The SAME brand is a guarantee of artistic authenticity and ensures the manufacturing originality as a work of art.
All the items leave our laboratories only after being hand inspected one by one.
For us, quality control is not so much a standard coding, but rather corresponds to an absolutely vital procedure: a professional protocol carried out by experts that guarantee the in-depth inspection of every single item.
It is only after final controls that SAME items are placed in their respective containers, ready to reach their destinations perfectly intact.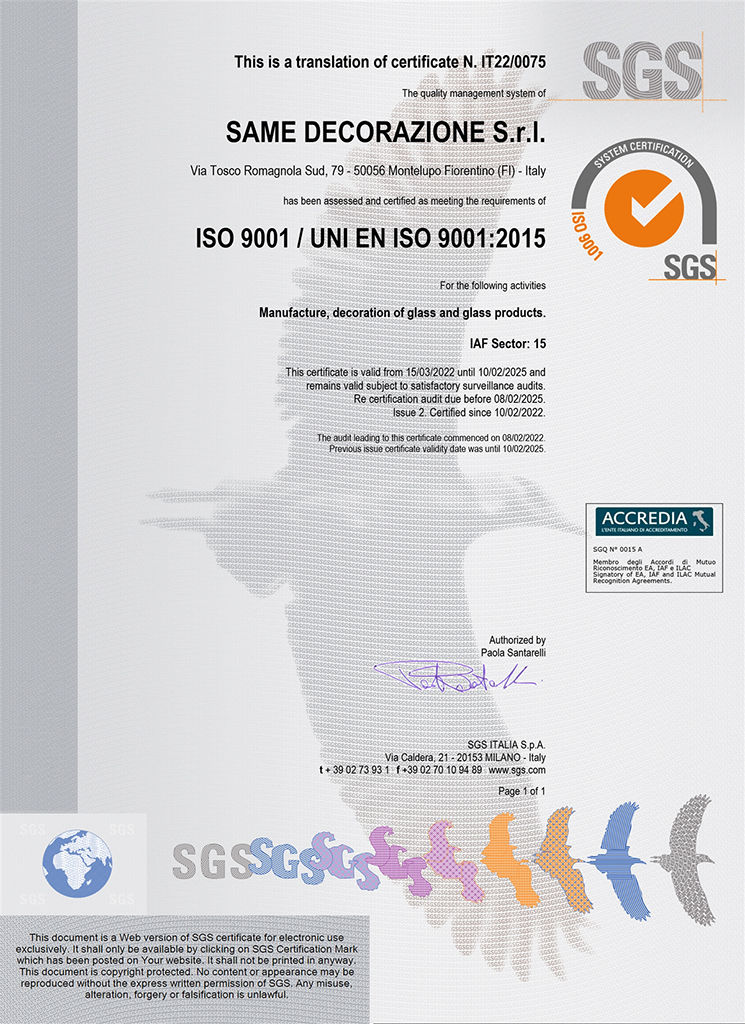 Our commitment to the environment
We are strongly committed to the environment with utmost respect from all our work. We use only lead-free colouring products certified safe by the world's leading paint manufacturers and producers.
We do not look for quality shortcuts as regards zero impact: any processing waste is always collected by specifically qualified companies, and their life begins again through recycling businesses.
Every processing phase in our workshops applies a code of ethics that guarantees environmental compliance in terms of intent and values: zero impact on everything that surrounds us, extreme care of production sites and employee safety.
SAME human resources are our professional capital, which is why we dedicate particular care to them in the same way as to our creations.
Every article is guaranteed not harmful to health when in contact with food, in compliance with the law on food products and consumption.
SAME art remains unaltered with simple care: the gold finishes can be polished with natural cloths (cotton, linen, wool) to keep the shine and reflection of their exquisite decoration the over time.